19 Feb 2017
Book Review – The First Trillionaire by Sapna Jha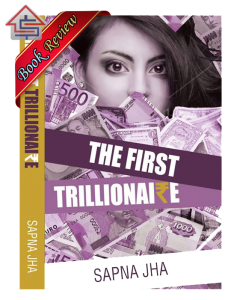 The title had me confused with J.Lowe's "The World's First Trillionaire", which apparently deals with a journalist's inquisitiveness on the ways and means used by the protagonist to become a Trillionaire in his own right. I now have this in my wish list, to read for later.
That said, Ms.Sapna Jha's debut work, "The First Trillionaire" is a refreshing read.. There is lot of emphasis on hard-work, dedication to duty, commitment to family etc. But, the unrelenting & blind faith, on the grand-design at the hands of Lord Supreme (Ma Dugra) tops them all. Although a bit cliché'd for many, such blind faith have been a life-saver to those who have passed though the darkest hours of their lives. It's a choice to believe in (or not to). Let us keep it that way.
Synopsis
The official synopsis is available here.

In India, a single mother raises a girl child in a rural village, by home-schooling with help of the local schoolmaster. The child grows up to an intelligent woman who knows how to use the knowledge she has gained over her growing years, and also strongly carries forward her mother's unrelenting faith on Goddess VaishnoDevi of Katra. Born to poverty, none to the family except for mother-daughter duo, reunion with the extended family once lost ,pre-ordained to inherit unprecendented wealth is this child's destiny taking shape.
Now, The Review
The language is simple, with easy to understand words, and easy to follow flow of events. As a translated version, this book still retains some dialouges from the vernacular language to keep upto the spirit of the characters.
The author has made a deliberate choice to take us though the memory lane … walking with the characters. The timeline spans from 1967 to 2016, for the reader to relate to the present day events, its history, and the repercussions to come in the near predictable future to those involved in these events.Braiding time-strands, with oldest character being 94 yrs, and youngest at 25 yrs, is no ordinary feat. That is three generations in a family, and a league of few other rustic, bureaucratic & mercenary characters in between. Each one's journey until present time is essential to understand the precedence and purpose of present day events.
While this is a welcome element for seasoned readers, it can get a bit overwhelming for those who are just picking up on the habit of reading for pleasure. For those of you, advice scanning the pages to get the big picture on your first read. Should you feel satisfied after completing the book, come back and read again to understand how the time-lines merge. I promise, you will enjoy the 2nd read better.
I have a feeling that the nuances of banking policies and attention to detail on Science, space research programs etc in the plot has a lot to do with Alok Jha (translator , author's husband) association with the banking sector and his association with science. Kudos, great teamwork. You both sure make a power couple.
The Book's Official Motion Trailer

https://www.youtube.com/watch?v=FNsNMmNqlnc&t=8s
Just one thing that nags me about this trailer (after reading the paperback version)..is, for a girl coming form a rather non-descript village in India, the promo trailer shows the protagonist as highly fashionable girl with nail art, selfie-pout, spaghetti strap tops, and a fake accent.
It is only until a certain point in the storyline, we can credit wisdom and intelligence to the protagonist. After that, most of the events that come together are largely pre-ordained, by way of coincidence. True to her character, the protagonist is thankful to her favourite deity, Goddess Vaishnodevi of Katra. In the end, All is well.
I understand from the cover, that this is a translated version (Thank you, Alok ji). Having read this, I would like to read the original book as well (assuming its Hindi). If its Gujarati or Bojpuri, I'd rather stick with the translation. This is just the quirky-me. Even when there are remakes of the same movie in multiple languages, I make it a point to watch them all. Here is a movie remade in 4 languages, and I watched then all..
Rating : 5 stars
I wouldn't go to the extent of calling this as an inspirational-read. Instead, would say that this makes an interesting tea-time read, or a kind of book you would want to hold on to while travelling (esp via train / bus). Takes your thoughts away from the humdrum of life, and leaves you with a satisfaction of having spent the time reading a good crime-mystery-thriller.