06 Oct 2014
Lost are we ? – 12 premium error page designs
Getting lost is a scary thing.
Having to face a visitor who lost his way on our website ie even sacarier,
The dreaded PAGE NOT FOUND - 404 error is an indicator of lost potentials.
But the, webmasters are human, and we cannot possibly think of every situation that could generate this 404 error.
However, webmasters / designers are geniueses at making a mark out this PAGE NOT FOUND - 404 error  and getting the visitor stay on the site for a bit longer.
While going through a website, you may have seen broken links, search page with no results, 404 page not found errors etc. What would be the idea of an error page which amazes users with its attractive and responsive design?.
The following are some of the best 404 page designs I found while navigating some websites. In this post we'll look at some premium 404 page error designs available with psd, template, html-css and other supported formats/files. Just check them and make your website's error page fantastic.
Responsive and modern design.
For 401, 403, 404, 500,and 503 Errors.
Easy to create custom error pages.
Google Fonts and Social Icons.
Missing Jigsaw Piece 
Price:$4
Features:
Layered psd is provided.
Responsive design.
CSS3 animations are also included.
It is provided with two fully editable and well organized PSD files with Help File.
HTML, CSS and JS template files is also given.
Animated Background.
For 401, 403, 404, 500,and 503 Error pages.
Responsive
Layered psd file.
High Resolution.
Responsive bootstrap 3
One page template.
CSS3, HTML5, jQuery and Ajax coded.
Ajax contact form.
Design avaiable with slideshow.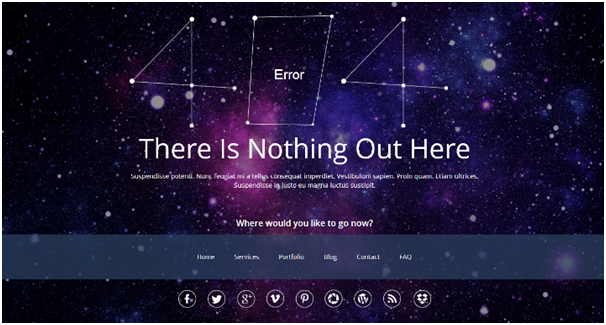 Price:$4
Features:
Bootstrap 3.1
Fully customizable.
PSD available.
Google Fonts used which makes it more professional and attractive.
Responsive design.
Background Slider is also there.
Windows 8 like metro style.
Modern design.
HTML5 and CSS3 code.


8 color options provided.
Search bar provided.
HTML5 and CSS3 code structure.
Full layered psd and png file.
Social Icons.


Bootstrap 3
Responsive website design.
Google Font
17 Social Icons.
HTML5 and CSS3 code

Easy to add questions.
HTML5 and CSS3
User Guide provided.
psd file
Valid HTML5, CSS3 code.

Brilliant design.
Fully editable psd file.
Amazing animated countdown.
Help file available.
Google web fonts.
HTML5 and CSS validate.

Animated error page template.
Google Font.
Layered psd.
Social Media Icons provided.
Any Others?
I liked the "Modern animated 404 page", what about you? If you've seen any other design or created one for your website, please mention it in the comment section