20 Jun 2014
Do I need a Website?
Would you dare to go to a networking meet without your business card?.. or… even step out without one? , I guess not.
You could as-well scribble your name and business info on a piece of paper and hand it over. So, why the hassle of carrying business cards on you at all times?Well,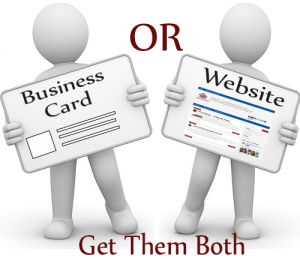 Easy to Share : It is convenient to share your contact info
Easy to the eye : It is better readable than when you scribble on a piece of paper.
Better Safekeeping: BizCard is tucked away more safely compared to scrap of paper.
Better chances of information retrieval: Hence, more likely to reach out to you / your business on a later date
Translation : Potential client
Well, the reason to have a website (url) is not much different either
Easy to Share: It is easy to add on to your business card
(print it, write it, scribble it, just add the url)
Easy to Update: Brochures can hold only so much information, and need to be reprinted when you decide to add content.
(additional cost, likely to get lost after 3 days, likely to be forgotten after 7 days)
Generates Curiousity: It makes a great add-on to your online-profiles.
(people are always interested to know more about someone else, cash on it!!)
Get on Google: Internet is only as far as one's pocket – and – Google is already the Yellow-pages for businesses.
You don't want to be left out.
Content is King and you now have a kingdom to rule : You know that you the best in your business. Now, it is time to make this known to thw world. Use your website wisely.
Strategically placed conent never goes waste.
Translation: Casual visitor>>Potential client >>Trial version client >> Seal deal >>THE CLIENT
It doesn't matter if you are providing hard goods or services,
but, having a website is no longer optional… it is an absolute need of the hour.
When was the last time you picked up "Yellowpages" to locate a business?
.. can't remember…eh ..?
When was the last time you googled for a business or service provider?.
.. few minutes ago perhaps?
See what I mean…
If you are reaching out for google, why should it be any different for your clients?
Having a website ensure that your url pops up when some one searches for what you are offering

(...but ofcourse, that involves another brand-of-services such as
SEO, Search Engine Optimization,  SMM-Social Media Marketing, OBP-Online Brand Promotion...etc)