26 Apr 2014
Forts of Konkan …. A date with History
Climbing the heights of different forts turned out to be easier than writing about them. Writing and visiting, both gave a trilling experience. Beautiful Konkan and its majestic forts were worth visiting, knowing about them from travelling enthusiasts and fort lovers and some really helpful web sites gave an insight to write. Willing to climb those heights again… reach those places again… A Homepreneur and a traveller writing about some worth visiting forts from Konkan…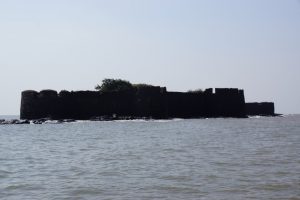 The west coast of Maharashtra is occupied by the coastal strip of Konkan. It is bounded by Sahyadri Mountain ranges i.e. Western Ghats on the east and the Arabian Sea on the west and extends from Dahanu in the north up to Goa in the south. Its greenery, cool orchards of coconut, palms and mangoes, cashew plantations, serene beaches, waterfalls, mountains and lush green valleys has always kept Konkan as a place of natural beauty and tourist attraction.
The forts in Konkan region have a vast history. The 350 odd forts in Maharashtra were constructed since the time of some of its early ruling dynasties like the Satvahanas, the Rashtrakutas, the Chalukyas, the Marathas, etc. They were a primary defence mechanism against enemy invasions and were called 'Killa' in local language.  The Great Maratha King, Chatrapati Shivaji Maharaj who was a true visionary, realized the importance of  strategically located strong forts at a young age and went on to capture and build many forts in his struggle to establish a 'Hindavi Swarajya'.
Konkan has various forts built by many rulers like Portugese, British, French, Dutch, Siddhis and Marathas. You will find different types of forts including sea forts, coastal forts, land forts and hill forts. It is interesting to explore the sea forts with the beautiful sea coasts. Sea forts were created in the middle of the sea with a solid foundation and provided an efficient base for controlling sea traffic and trade.
Anup Kaparathi, Director at B.E.S.L, Yavatmal, www.trekforts.org  is an avid traveller. He has his own trek group "Rangers - Trekking the heights where eagles dare" and has covered all the forts in Konkan of Shivaji Maharaj. He mentioned some like Murud-Janjira, Padmadurga in Alibaug Area; Suvarna Durga, Gopalgad in Dapoli Area; Jaigad, Ratnadurg, Purnagad in Ratnagiri Area and Sindudurga, Devgad, Vijaydurg in Malvan Area. He says, "I have a collection of more than 40 000 pics of forts of Shivaji Maharaj and seen 212 forts. I like visiting some of them like Khanderi, Underi, Padmadurga and Sindhudurg. I feel the sea forts of Khanderi and Underi are a must visit. Both are located in an island and you need to take a boat ride from a village called Thal near Mumbai to reach. Khanderi is well known for its huge walls and Light house. View from Light house cannot be avoided."
The Hill Forts are most common and scattered all around the Sahyadri mountains. They are located at short distance from each other and were accessed by crossing a couple of mountains. This helped the king and his officials escape from one fort to other in case the earlier fort was captured by the enemy. They were deliberately located in very inaccessible positions and so majority of them are uninhabited now. They are very popular with hikers and many of them have become tourist attractions.
Meet Pankaj Vijay Samel, Dy. Manager-Operations at Anand Rathi Shares and Stock Brokers Limited, Mumbai, http://pankajsamel.wordpress.com/ . Pankaj has visited more than 210 forts and tells us about one of the offbeat hill fort, "Gorakhgadh" near Deheri village which is 40mins from Murbad near Kalyan. Pankaj adds, "The entrance of the fort is carved out of a single rock and to reach there you need to climb a steep rock-cut stair case having trench on both the sides. The large rock cut cave on the fort can accommodate 100 people and there is fresh water available in the water storage tanks in any season. Shilp is another cave while going towards the fort and is constructed 2000 years ago during Satvahana dynasty. Virgal or herostones as name suggests are dedicated to persons died during war and are in the premises of local god temple which is on the way of the fort. The view from the top is mind-blowing with Siddhagadh in the front, Ahupeghat, Naneghat, Jivdhan fort and more. You can take 6-seater vehicle to reach Deheri from Murbad and local guides will take you to the fort from Deheri."
There are forest forts which are created amidst a dense jungle, protected by the trees, the reptiles and wild animals. Land forts were created on the plains. Some forts are a combination of land and sea forts e.g Vijaydurg or mostly hill and forest/land forts.
Kiran Shelar, Manager at Capgemini, Mumbai, tells us about one more hill fort "Karnala" which was part of Saatvahana dynasty. Kiran has seen more than 200 forts from Maharashtra to Tanjavoor. Kiran tells, "Karnala was in Adilshahi empire and became a part of Shivaji Maharaj's "Swarajya" in 1656.It got its name from goddess "Karnai Devi" and was one of the 23 forts handed over to Mirja Jaysingh by Shivaji Maharaj during the Purandar compromise. It was used to keep a watch on the areas from Panvel to Kalyan and Pen to Alibaugh. Freedom fighter Vasudev Balwant Phadke's grandfather was the last keeper of this fort (Killedar). The stone carved water tanks are the speciality of this fort. This fort is 15 kms from Panvel and is in Karnala Forest Reserve. It takes nearly two hours to reach from the forest. Its height is 2000 ft and gives an eye-catching view from the base due to the shape of a thumb."
The gallery below has some images of the forts explained:
Sindhudurg Fort
Sindhudurg fort was built by Chatrapati Shivaji Maharaj in 1664 on 'Kurte' islands and is an excellent example of fort building architecture. You have to take boat ride in order to visit the fort. The fort has 52 'Buruzs'(Fort entrance wall) with an average height of 30 meters and has three sweet water wells with Bhavanimata, Mahadev Temples and also a Temple of Shivaji Maharaj himself. In the fort you can also find a rare example of branching of a coconut tree. A visit to the fort is a must for any tourist and you will enjoy going around in the fort.
Murud-Janjira Fort
Located near Rajapur, Murud-Janjira is a majestic sea fort which remained unconquered till the end. The fort was built by Siddhi Amber and is an excellent example of fort building architecture and its outer walls are still in a good condition. You have to take a boat ride to go to the fort, and there is a lot to see on the fort. This fort is considered as one of the strongest marine forts in India and has remains of various sculptures, cannons and more.
Vijaydurga Fort
Located near Devgad the Vijaydurga fort is on a strip of land going into the sea and is spread in an area of six hectares. The fort has 27 'Buruzs' and is still in a very good condition. The huge stones used for the fort walls and the strength of the walls are still visible and it is quite interesting to think how these huge walls were built in the open sea.
Different types of forts have added to Konkan's beauty and developing tourism. They need to be preserved as a national treasure. Visiting these forts may require proper planning, local guidance and it's always better to reach the hill forts with experienced trekkers. Glimpse of these forts is like taking a walk down the history. They are the witness of the greatness of the history and its rulers...
References:
http://marathachronicles.blogspot.in/2011/03/forts-in-maharashtra.html
http://www.sahyadribooks.org/books/KilleMaharashtra_Kokan.aspx?bid=1047
Comments