Search engine Optimization is THE factor responsible for getting visitors to your website/blog.  There is more to SEO and user engagement than just a good headline and an eye catchy image. Let us not forget that, every bit of text that borderline touches the services/ product you offer is a drop added to your SEO practice. In order to formulate an effective SEO strategy, one needs to be well informed about the popular and not so conventional SEO practices as well. Here are some of my writings on SEO for you to review.
Should these convince you, and want me to craft content for your site/service/business, feel free to reach out via the Contact Me Section.

Google Authorship is dead, but you are still writing.. Aren't you?
Authors invest time, effort, memory & wisdom of the experience gained over the years to come up with a truly original piece of writing, a.k.a "content". Every content he/she creates is an extension of self, and hence so much dear. So, it is only understandable that due credit reaches the author
What makes one an author?
What is authorship? Is it important?
Why did Google launch the authorship program?
How was this received by the online community?
How many actually implemented the authorship markup?
Why such low adoption rate?
Why exactly did Google decide to pull the plug?
What will happen to SEO efforts put in from 2011 - 2014
What next?
 Google Authorship may be dead, but you are still writing. So write and publish wherever it is appropriate. Don't worry about the bots. People hire people, bots don't.

Importance of Content on SEO -
Content can be broadly classified into 2 categories ONSITE & OFFSITE content. Search Engines identifies content (based on the near-match-to-search-query) and indexes your content in this manner
The RESOURCE : Onsite content & The CUEs : Offsite content
SEO Copywriting
The Logic behind SEO Copywriting
Consumers are looking for solutions.
Businesses are offering solutions…and have a website / blog that says it all.
They are unlikely to find each other on their own.
Search Engines pitch in- and pair them up exactly when they are asking for it.
—THIS IS WHAT SEO EXACTLY DOES TO YOUR BUSINESS–
Top 10 Social Media Tools
Social platforms like Facebook, Twitter, Reddit, Blog comments, Linkedin, Quora (..oh.. the list is endless…) provide ample space/opportunity for a healthy discussion. But, is it possible to login to each one of them…and be online at all times… at all of these sites? I guess not. Logistics apart, such an act will leave you no time to actually conduct your business… not a productive way..eh!
—Social Media tools are utilities that allow you to manage multiple social media activities via a unified dashboard.–
Social Media Strategy - Planning and Execution.
It is one thing to know how a tool works,
But, it is an entirely different thing to know,
…how to get the tool to work for you.
Strategy – The Action Plan Strategy begins with defining the goal in tandem with your social media interactions
Tactic – The Act itself Tactic is the ways to get to goal. You will know where to start… but.. You have to execute to actually start
Published at Homepreneur-online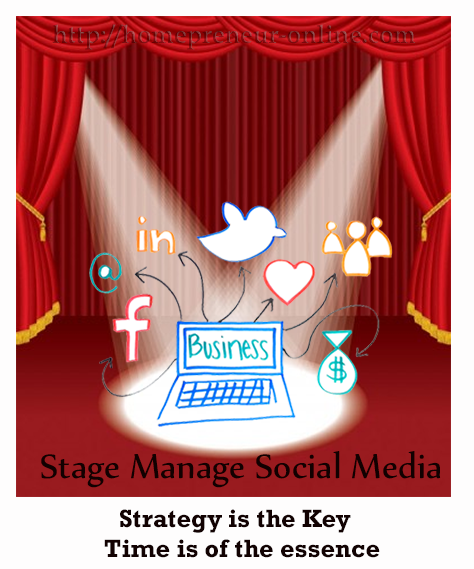 Stage-managing Social Media – position yourself strategically
Man is a Social being. We are incapable of keeping our opinion to ourselves. We just have to let it out….Social Media is all about talking about the things that has made an impact (good &bad).Smart businesses use this basic human tendency to the best of their advantage.
Social Authority – Blogging Platforms
Social Sharing – Sharing Platforms
Social Presence – Scheduler platforms